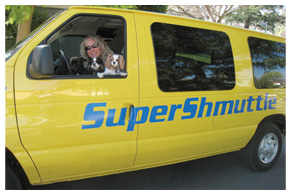 SuperShmuttle serves the needs of dog owners by acting as both caretaker and personal assistant to your pet. We exercise and transport our Shmutts to the dog Park, as well as groomers and vet; and shop for and deliver pet foods, medications, toys and accessories to your front door. SuperShmuttle is a California Corporation that is licensed, bonded and insured.
SuperShmuttle was founded by owner Judy Rudin, who has spent the past 18 years providing unparalleled pet care to her clients in Hollywood, Studio City, Toluca Lake, Silverlake, Los Feliz and Burbank. One of the first "dogwalkers" in LA, before there was any kind of job description, Judy founded "Jerseydog Pet Services" in 1990 (named after her Lab, Jersey) and soon became a trusted friend and companion to dogs and owners alike. Her compassion, care and devotion to animals as well as her concept and philosophy of working with the pack (pre-Cesar Millan) made clients seek her out, and she was constantly overrun with more client requests than she could handle.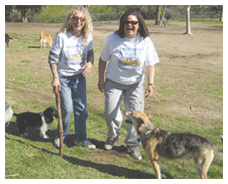 Finally in 2007 when she hit on the concept of SuperShmuttle, Judy decided that she could expand her business reach and services into more homes and neighborhoods around Los Angeles while still offering one-on-one, first rate care.
In the 2nd half of 2008, SuperShmuttle plans to open their first private dog park.